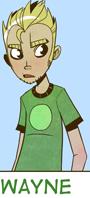 Wayne W. Wayne (presumably Wayne Wayne Wayne) alongside Frank is one of the central Guys in the comic's title (as opposed to Guy, who is a girl). Unlike Frank, he doesn't wear glasses. His hair is spiky-blonde.
Wayne isn't known to occupy a specific job, however he is trying to become an author. Many jokes revolve around him lacking inspiration.
He is quite frankly an idiot, possibly due to a chunk of his brain missing. He is rude, crass, gullible, and a compulsive liar. He is also an alcoholic.
Wayne is the character with the most appearances (Data soon to be available)
Wayne is on bad terms with his close family. He wasn't invited to his sister's wedding, and is prepared to kill them if necessary.
Wayne's sister is also mentioned.
Wayne seems to have at least two sisters (link to the comic where wayne mentions "the dumb one")
Wayne is arachnophobic.
Wayne frequently suffers irreversible injuries. There are several explanations for his systematic miraculous recovery :

Frank heals him with science
Comics take place in various parallel universes (link to comic needed)
Comics take place in simulated universes
Wayne is cloned every time he dies (link to comic needed)
Wayne is a figment of Frank's imagination