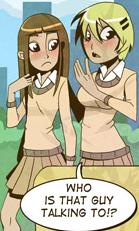 The schoolgirls are a long-haired brunette and short-haired blonde in matching uniforms who in their first appearance comment on Frank talking to himself on a bench. This means either that they are hallucinations, that Frank was hallucinating Wayne and Guy, and possibly that Wayne and Guy were ALWAYS hallucinations.
Although Frank's neighbor appears to have seen the two, which could indicate that he is also part of the hallucination.
Ad blocker interference detected!
Wikia is a free-to-use site that makes money from advertising. We have a modified experience for viewers using ad blockers

Wikia is not accessible if you've made further modifications. Remove the custom ad blocker rule(s) and the page will load as expected.